Setting up your Airbnb listing might seem like the simplest task in the world. But if you want to gain maximum visibility, compete against the competition in your destination and achieve Superhost status, you'll need to go beyond completing just the basics.
To be successful on Airbnb, you need to deliver on a headline that grabs the attention, photos that draw your potential guests in, and then slam dunk them with a short, sweet but highly effective sales pitch for your vacation rental.
Why advertise your vacation rental on Airbnb?
With 6+ million listings, 4+million hosts advertising their vacations homes and 150 million users worldwide looking to book accommodation, Airbnb is the global leader for travel rentals.
Statistics show that it's captured around 20% of the global market. With this level of reach, love it or hate it, listing on Airbnb is an essential part of your vacation rental booking strategy when starting out in the business.
Airbnb's main competitors in the vacation rental space are VRBO, Booking.com and TripAdvisor Rentals, and we recommend that instead of relying on one source for guest bookings, you should adopt a multi-channel strategy to maximize visibility.
A multi-channel strategy would include the creation of your own independent marketing channels, such as book direct website and the use of social media, from which you can win direct bookings - which results in less commissions paid out to the OTAs.
For this article, we're focusing on how to create the perfect Airbnb listing. So let's get started!
Rock your Airbnb title
Creating a great Airbnb title is one of the most important elements to your listing.
Until summer of 2022 it was probably the most important element as it appeared in the search results, however since Airbnb have taken custom titles out of search results, your customized title now only appears at the top of your listing page.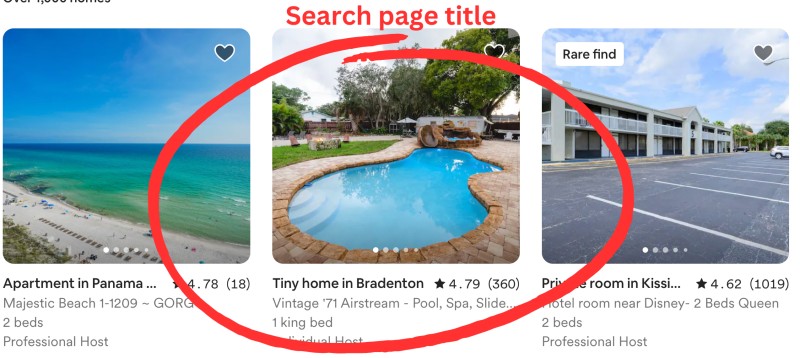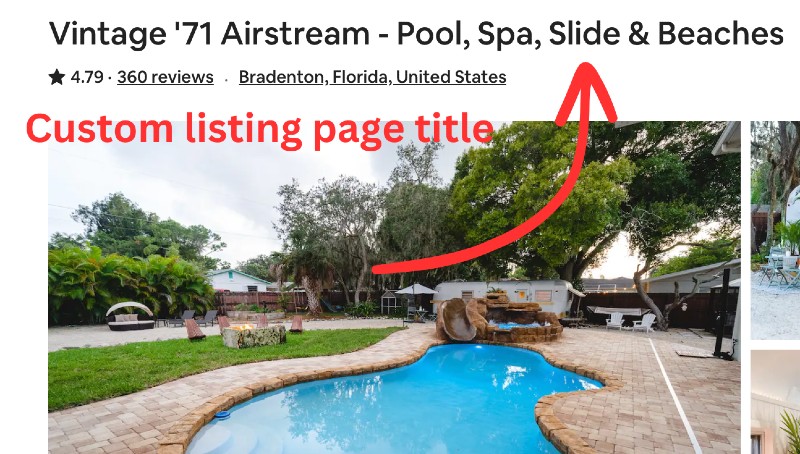 After many complaints from hosts, Airbnb promised to revert back to custom titles appearing in search results, to date this hasn't happened.
For now, it's the lead-in to your listing description and should summarize what a guest can expect from your vacation rental and make them want to scroll down and read the rest of the description.
The maximum character length for an Airbnb title is 50 characters on a desktop and just 32 characters on mobile phones. I recommend that you stick to the 32 characters. It's not a lot, so you have to really focus down on what's important and what's going to gain attention:
Make every character count: keep it simple and accurate
Use abbreviations: pkg = parking, br = bedrooms, ba = bathroom, apt = apartment
Include best features: draw guests in by highlighting features such as a pool, views, free parking (if you're in a city), beachfront.
Mention exact location if it's a feature: If your vacation rental is situated in a prime location which make it desirable, mention it in the title
Use short words: try to use words that are less than 5 characters long
Save descriptive words for the description: leave out adjectives and descriptive words, which will take up the character length. Words such as beautiful, luxury, spacious can be saved for the description
Examples of effective custom Airbnb titles
Apt on the beach surfboard incl!
Riverside penthouse, 2 bd, fireplace
Battery Park - Waterfront Studio
1BD near Convention Center and Beach
Invest in eye-catching photos
Your Airbnb listing should be visually attractive and showcase your vacation rental room by room and outdoors. Poor photography, bad angles, and poor lighting will not do your vacation rental justice or bring your bookings.
You are allowed to publish up to 100 photos but that doesn't mean you should upload that many. Airbnb's photography team suggests that you publish between 3-5 images of each room a guest has access to, taking shots from different aspects of the room to get a complete picture.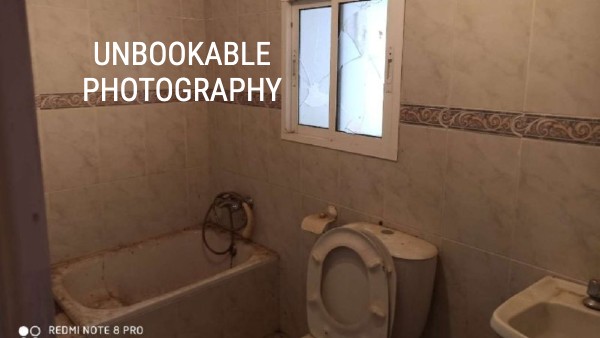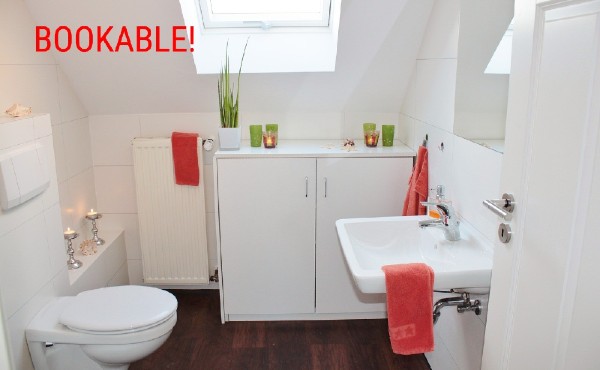 Professional or mobile uploads?
Professional photography isn't within every vacation rental host's budget. It also very much depends on your vacation home. If you are charging high nightly or weekly rates, you'll need to justify that with stand-out photos. If your vacation home is more basic, hiring a photographer may be out of reach and unnecessary.
Is it worth it? Airbnb suggests that publishing professional photographs receive an average of 24% more bookings than listings which don't have good quality photography.
If professional photography is out of your budget, you can achieve decent photography with a good camera, iPhone or Google Pixel mobile. However, the phone can only do so much. It needs your help! Taking time to learn good photography techniques is essential and there are plenty of articles out there which will teach you the tricks of decent Airbnb photography.
Upload the right resolution: Airbnb recommends that your photos should be at least 1024px x 683px. When in doubt, a bigger photo is better.
Lead Image: The lead image which appears as the thumb image on the search results is the most important and needs to be your very best photo. Since we have already discussed that - for the time being - your custom title isn't included in search results, your thumb image has all the work to entice guests to click on your listing.
Show your best photos first: Order your photos, so that those which show off your vacation rental at its best go first. Guests also love to see feature elements of your home, so call attention to details like a fireplace, artwork, or backyard BBQ.
Give your images names: Potential guests will appreciate scrolling through your images and being able to visualize the space. Naming your images helps them to do this: principal bedroom, bedroom two, en-suite bathroom, family bathroom, etc.
Add destination images: Many hosts stick to presenting photos of the accommodation only, but if you really want to draw guests in, you need to deliver on the overall experience. Publishing four to five images of what a guest can expect from the local area, such as the beach, water park, festival, shopping, park or a local favorite dish.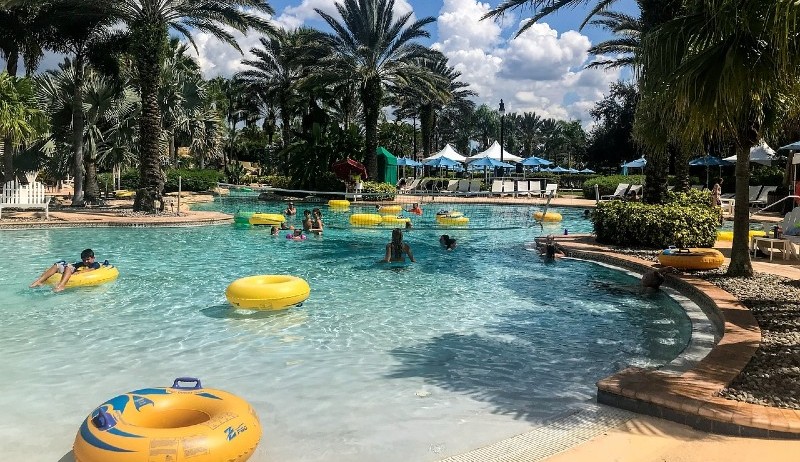 Keep your description short and sweet
It takes users an average of 11 minutes and 31 seconds when booking a stay on the Airbnb app, so you need to draw them in with a great title, photos and a short and sweet description which tells them everything they need to know to press… 'instant book'.
Airbnb gives you a short description which is what a guest will see without having to click on Read More. This has a cap of a maximum of 500 characters, approx 3-4 paragraphs. So what should you include in your short description?
Personalized intro summary
The vacation rental business is a personal one. Often guests choose a vacation rental home over a hotel because they appreciate the personal connection they have with a host, so adding a personal intro to your description immediately makes them feel welcome.
Use this intro to welcome them and summarize the best features and location.
Examples:
We are delighted to present our plush South beach pad which is the perfect stay while you enjoy your Miami beach adventure.
Escape to our secluded haven nestled in the Great Smoky Mountains with a hot tub and awe-inspiring views.
Welcome to your perfect Hamptons vacation getaway. Our private apartment is newly renovated, walking distance to beautiful bays and restaurants.
Use highlight bullet points
After your introduction, you could use 5 to 6 bullet points to highlight your vacation rental's best features or USPs (Unique Selling Propositions). This will immediately make the description scannable and potential guests can immediately tell if the property is for them.
You should also include a bullet point to detail who your vacation rental is for i.e. best for families, ideal couples getaway.
Examples:
3 en-suite bedrooms, with plush towels and luxe amenities
Fully stocked kitchen
Extremely comfortable beds guaranteeing a great night's sleep
Hot tub on the terrace
Great for family groups
Walk to hiking routes
Space summary
Next you should give a summary of the accommodation. Don't forget you only have 500 characters, so be concise to include the 'need to know' information - how many guests, in how many beds, baths, and reiterating those USPs.
Examples:
The apartment sleeps up to 6 guests in two spacious bedrooms: one double, one with twin beds.
The living room is furnished with two sofas and a Smart TV, the kitchen is fully stocked and there are two bathrooms - one with a walk-in shower and one with a bath.
Airbnb Long description
You are allowed 400 words for a long description and within this copy you should include a good but concise description of the space, local attractions, and answer guest questions.
Space: Include a more detailed room-by-room walk through of your accommodation. I recommend running through in the following order: living space, dining/kitchen, games/cinema/indoor pool spaces, bedrooms, and then outdoors.
Guest access: Let guests know how they can access your property. Is it keyless or human check-in, what are the check-in/check out times, and does the property have an alarm?
Attractions: Spend some time describing what guests can expect from the local area and what attractions they can reach in under a one hour drive. You can bullet point this section to make it scannable.
Reflect your photos in words: When you write your description, think about the 30 photos that you chose to visually describe your vacation rental and make sure that your wording reflects the same quality. Don't oversell in words, what your images don't show, it will be confusing and leave doubt in the mind of a potential guest.
How to rank higher on Airbnb
You've created an awesome listing description and now you want to maximize that listing to help your Airbnb lisiting rank higher in the search results. How do we make that happen?
Response times
Airbnb monitors and calculates your response rate to an inquiry and it takes them very seriously. Consistently good response rates will help you rank higher within search results. Airbnb deems that a maximum response time is within 24 hours of receiving the inquiry.
Ideally, you should immediately respond to an inquiry, or within 3 to 4 hours of receiving it.
To calculate your response rate, Airbnb uses this formula: responded inquiries within 24 hours in the past 30 days / total number of inquiries received.
Get more five star reviews
Airbnb couldn't be more clearer on this. The more satisfied your guests are with their experience and the more five-star reviews your vacation rental receives, the higher you rank within Airbnb search results.
Update your calendar
One of the most effective ways to improve your ranking is to keep your calendar updated. That way, it highlights when you have a vacancy and when you're blocked out. Calendars which are kept up-to-date help your search results ranking. If you are using multiple OTAs (Online Travel Agencies such as Airbnb, Vrbo, Booking.com, etc), and perhaps have a book direct website, it's advisable to use a PMS (Property Management System) to synchronize bookings and keep calendars updated across the board.
Use Instant Book
Airbnb wants bookings generated and the fastest way to get bookings is by switching on the Instant Book functionality.
Turning on Instant Book is a powerful way to encourage guests to book a stay with you. When you switch on Instant Book you get a badge on your listing, which according to Airbnb, some guests search specifically.
They also claim it can double your bookings. Part of the reason for increased bookings is because switching on Instant Book gets you placed higher in search results.
Photos
Good photography is essential as we discussed above. Publishing the correct size images, and publishing enough to showcase your vacation rental well, will help your search ranking, as well as helping potential guests to visualize your home.
So, there you have it. The Inhaven complete guide to crafting your Airbnb listing description!