An immaculately clean bathroom with enough storage and high quality accessories is a must if you care about the guest experience.
Guests are looking for clean bathrooms matched with excellent towels and accessories.
Depending on the type of bathroom - full, en suite, shower or guest bathroom, the space should be fitted and stocked with everything your guest needs to enjoy a luxurious bath or pamper time during their stay.
Stocking your vacation rental bathroom
From bathroom basics to guest pleasers and five-star toiletries, you'll find everything you need in our Inhaven guide to essential bathroom accessories and toiletries for your vacation rental.
For many travelers, towels, toiletries and other bathroom essentials are items they can't live without during a vacation, but they also take up a lot of space in the suitcase.
When you have a fully stocked bathroom, your guests can pack lighter and that means happier guests and more five star reviews for you!
Bathroom accessories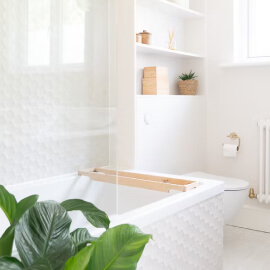 The bathroom accessory list is a long one, from toilet paper, waste baskets and soap dispensers, bathroom accessories are there to make your guest's stay more comfortable.
A good vacation rental bathroom will be equipped with practical accessories with a few nice-to-haves additions which will enhance their bathroom experience and make bathing in your vacation rental more pleasurable.
Shop Inhaven bathroom accessories and storage.
The Essentials
Toilet Paper
Waste basket
Bath mat or rug
Soap holder or dispenser
Toothbrush holder
Hairdryer
First-aid kit
Towel rail or hooks to hang up wet towels, a bathrobe or clothing
High quality shower curtain if you have a shower over bath scenario
Toilet plunger and brush
The Nice-to-haves
Automatic soap dispenser
Shower caps
Hair tool organizer
Other small amenities such shoe polish and a sewing kit.

Insider Tip
Stock your bathroom with quality accessories without making the space cluttered. Think about the storage space and surfaces you have and then plan where to place everything. Make your accessories are easy to reach without taking up space that your guests will need for their personal items.
Bath Linens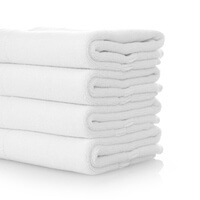 Fluffy towels are one of the great pleasures in life, especially when staying in a high quality travel accommodation. The goal as a host is to provide towels that are soft, warm and durable. Investing in quick dry towels will also impress your guests.
We recommend purchasing all white towels, which easily match with all decor.
Guests will appreciate a selection of different size towels and you should have 3 sets of towels on hand for each guest staying at your place. The set should include a bath towel, hand towel and washcloth.
At Inhaven, you can buy towel sets and towel bundles, to ensure that you always have good quality towels at the ready. You can choose from 100% cotton, to high grade Organic Turkish Cotton sets.
Bath linens: Essentials
Bath linens: Nice-to-have
Makeup towels - these will help protect the longevity of your bath towels. We highly recommend making this investment!
Beach and pool towels
Bathrobes
Bath slippers

Insider Tip
If you want to keep your towels soft and fluffy during high season, use dryer sheets instead of fabric softener.
Toiletries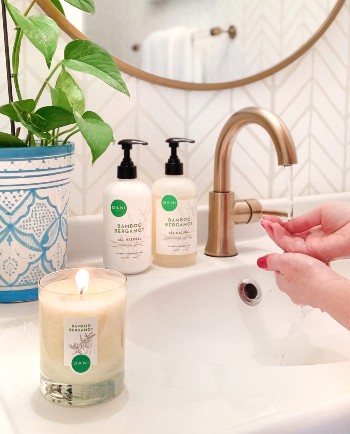 Gone are the days when toiletries were just for hotel accommodations. Every vacation rental bathroom should include at least the basic toiletries of shampoo, soap and shower gel.
Toiletries can be heavy and take up space in a suitcase, even the travel versions, so a vacation rental with or without toiletries can be a decision making factor when choosing which home to book.
Shop Inhaven Personal Care & Toiletries
Toiletries: Must-.haves
Shampoo
Conditioner
Hand & Body Soap
Hand & Body Lotion
Toiletries: Nice-to-haves
Toothpaste
Shaving gel
Cotton swabs and q-tips
Makeup wipes
Mouthwash

Insider Tip
Cut out single use plastics by buying refillable pumps and dispensers. Just make sure to fill them with quality - and ideally organic - products and mention the brands you use, so that guests know what they are putting on their bodies.
Family-friendly bathroom accessories
If attracting families is important to you, a sure way to enhance your family-friendly vacation rental is by equipping the bathroom with toddler friendly accessories.
Baby towels, bath toys, a stool, children's toothbrush and a baby bath are just some of items that will delight your little guests and help mom and dad to pack lighter.
Accessible bathrooms
Not enough vacation rental hosts take accessibility for all guests into account. Setting up a bathroom for mobility or sight impaired guests is an excellent way of increasing bookings as accessible accommodation options are few and far between.
What's more, installing accessible bathroom equipment will also attract mature guests who need a little support in a bathroom environment.
Refitting your bathroom to be completely accessible is expensive, you'll need to widen your doorway, put in a roll-in shower or make your bathroom a complete wet room; however, there are some bathroom safety aids and accessories that will go a long way to making the space more accessible.
Handrail next to the toilet
Shower handle
Toilet seat riser
Bath seat or shower chair
Accessible low shelving (under the sink for example)
To make sure you have all the necessities for your vacation rental bathrooms, refer to our bathroom inventory checklist to deliver a 5 star vacation rental bathroom experience.