We often talk about vacation rentals as a home-away-from-home for guests, but if you really want to impress and delight your guests, your vacation rental should be even better than their home.
The perfect vacation rental should check off all the boxes – everything a guest expects when they arrive, and everything they need to be perfectly comfortable during their stay. It should also have some little touches that go above and beyond – what we like to think of as "surprise and delight."
Think hotel-quality comfort with more space and flexibility.
Whether you're just starting out as a vacation rental host or are a seasoned manager looking for inspiration to attract more guests and improve occupancy rates, this article is for you.
We'll cover the absolute basics you'll need to furnish and equip your vacation rental and the best products to withstand the wear and tear that comes with owning a vacation rental, along with some insider tips that will help you stand out in a crowded rental marketplace.
1. Keep it Clean
The first thing a guest will notice when they enter your home is the cleanliness and hygiene. What you don't want them to notice is any dirt or grime that you've missed during setup or change-over.
Before you start to equip and furnish the home, every corner of every room should be rigorously deep cleaned and disinfected.
After set-up, these cleaning and hygiene protocols should be carried out at least every six months - ideally after the high season closes.
That includes high touch points, such as door knobs, remote controls, and light fixtures, and ceiling fans.
Living space: Under the sofas and armchairs, TV, dining table and chairs should be wiped down and every storage space cleaned inside and out.
Kitchens: Every cupboard and drawer in your kitchen should be cleaned and unless your appliances are brand new, they should be professionally cleaned inside and out. No guests want to arrive to find burnt oven trays and fluff in the washing machine drawer!
Bathrooms: Every bath, washbasin, shower and toilet should be scrubbed clean and disinfected. Everything should sparkle!
Bedrooms: Clean under the bed, the headboard and every cupboard and drawer.
Furnishings: Any upholstered furnishings and curtains should be steam cleaned, your windows cleaned inside and out, and blinds wiped down.
Baseboards should be wiped clean and garbage bins disinfected.

Insider Tip
Don't skimp on Airbnb cleaning supplies. Use high quality cleaning supplies and tools, and don't use one multi-use product to clean every surface.
2. Does everything work?
Maintenance checks should be carried out before you welcome in your first guests. Make sure there are no leaky taps, all appliances are working properly, and there are no light bulbs that need changing.
In between each guest, your changeover team should also be checking the basic essentials, such as light bulbs, remote control batteries, and any equipment that might have been damaged during the last guest stay and needs to be replaced before the next.

Insider Tip
We highly recommend setting up a contract with a professional maintenance company who can be called out 24/7 during guest stays.
Airbnb Guests have 48 hours to make a guest complaint about damages or things that don't work in their vacation rental, so if you receive a complaint (hopefully you won't!), you'll need to jump on it quickly. A professional maintenance company will have your back.
3. A fully equipped kitchen should be just that… Fully equipped!
The top three reasons travelers book a vacation rental are more space, multiple bedrooms, and a fully equipped kitchen.
A fully equipped kitchen means your guests can eat healthier, when they want and save money on dining out.
What should a guest find in a fully equipped kitchen? See our Kitchen Checklist
This is especially important for families traveling with children who appreciate the flexibility of a kitchen where they can cook the food their children like to eat (perfect for fussy eaters!) and prepare healthy snacks for them throughout the day.
One of the main reasons that guests down-grade their reviews is the lack of equipment when the property is advertised as having a fully equipped kitchen.
Aside from the standard domestic appliances of an oven and stove, grill and microwave, you should include enough equipment and amenities for the maximum number of guests.
Utensils and accessories should be in uniformed sets of tableware, rather than a mixed selection of plates, mugs, knives and forks.
We also recommend that you invest in quality brand-name small kitchen appliances, such as juicers, coffee machines and toasters.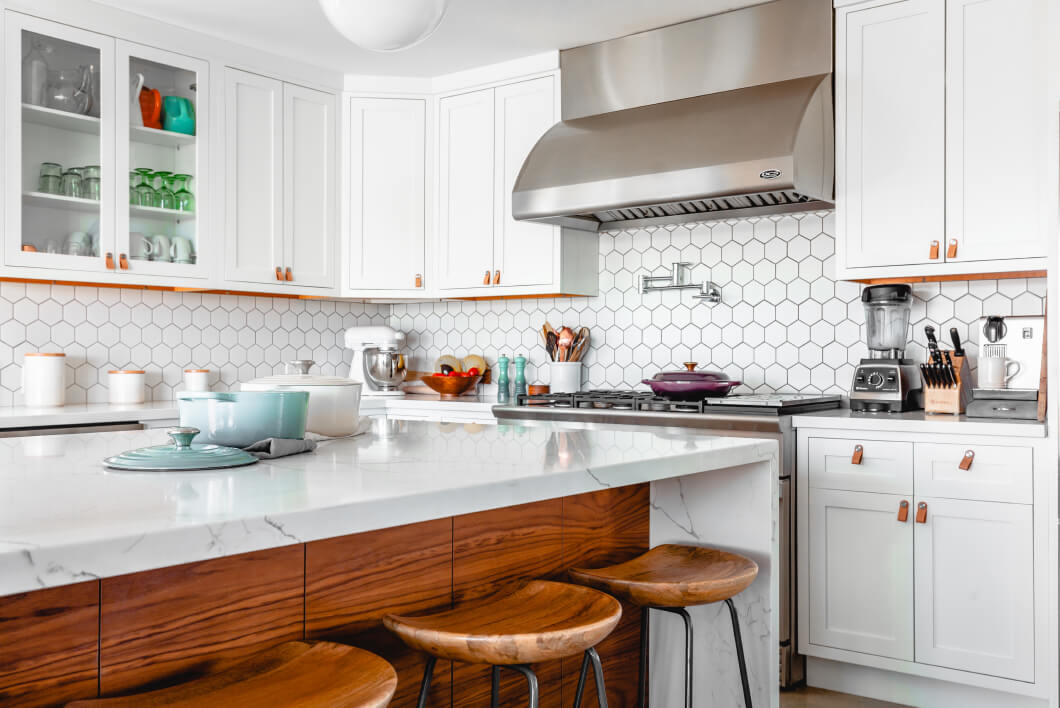 Insider Tip
Your kitchen cupboard space should be prepared and organized with sufficient space left for your guests to use for products they have shopped for.

Insider Tip
Guests love to see a handful of Airbnb pantry supplies so they can get cooking right away. These include: olive oil, vinegar, salt and pepper. Nice-to-haves might be mustard, sriracha, soy sauce, and a spice selection.
4. Light up
Your guests will appreciate a well-lit vacation rental, inside and out. The idea is to create spaces that can be luminous or intimate, depending on the mood of the guest.
Also take into consideration: adequate lighting in the kitchen, bedside lamps for each bedroom, and solar/security lighting for the exterior.

Insider Tip
Choose table lamps with USB ports which provide your guests a place to charge their products, a top amenity also found in hotels.

Insider Tip
String lights create a wonderful ambiance in outdoor spaces like porches or yards.
5. Good quality toiletries
If you want to impress your vacation rental guests, present them with spa-quality toiletries that will allow them to pack lighter.
As a minimum, your toiletry range should include haircare products: shampoo and conditioner; shower and hand gel soap. Skincare hand gel soaps should be available in every bathroom and in the kitchen.
For an environmentally friendly alternative, invest in nice-looking refillable containers for shampoo, conditioner, body wash and hand soap. If you are refilling them with a top brand, you can advertise that on your listing or with a printed card that has detailed information about the amenities.

Insider Tip
If you want to impress your guests even further, you could include body moisturiser, toothpaste and a toothbrush for each guest, nail clippers, and shaving creams.
Business travelers especially appreciate having a full-set of toiletries to hand. Their stays are normally shorter, so the lighter they can pack, the better.

Insider Tip
Why not offer extra toiletries as an add-cost to your rental price?

Don't
Fill up your spa quality toiletries bottles with cheap replacements, you will get found out!

Don't
Leave the toiletries left behind by your last guests for the next guests
6. Hotel quality beds
The beds you purchase for your vacation rental will be the most important investment you make. And there is nothing a guest likes more than a hotel quality bed.
A good night's sleep vs. a bad night's sleep can be the make or break of a great vacation. In fact, the happiest guest is one who's had a good night's sleep, so selecting the right bed and mattress is essential if you want to delight your guests.
Beds should be sturdy, divan-type sprung bases (not four bare legs and a flat base), with top quality, firm mattresses.
All beds should be fitted with a quilted mattress topper/protector. This is both for guest comfort and to protect your mattress against general use and allergens. Choose a waterproof one and you'll get extra protection against any spills or accidents.
A good quality bed and mattress won't be appreciated if you fit them with cheap linen and pillows. The hotel quality bed experience is always finished off with crisp, white sheets and a decent pillow.
Cribs and children's beds should have a mattress protector to prevent damage to the mattresses and plenty of spare linens in case of accidents.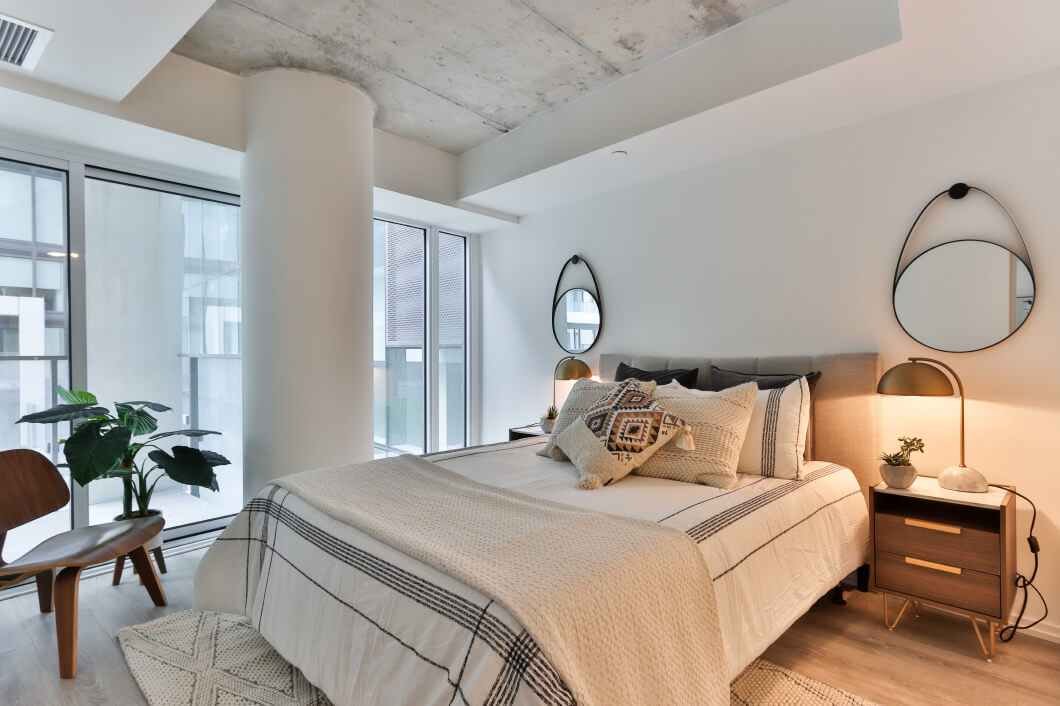 Insider Tip
The size of your bed should always match the size of the bedroom.

Insider Tip
You should have three sets of bed linens for each bed. Why three? You need one on the bed, one to keep in the linen closet, and one that can be in the laundry. And aim to update every six months (depending on your occupancy rate).
7. Fluffy white towels
There is nothing a guest likes more than finding fluffy white towels in your vacation rental. And nothing they like less than finding crispy old ones!
Fluffy white towels tell a guest that you care about them and want them to enjoy a high-quality stay.

Insider Tip
Depending on the length of the stay, there should be two sets of towels for each guest staying. Towels should be changed every 6-7 days during a guest stay and at every changeover. Update them for a new set at least every six months.
8. Entertainment & Internet
These days, your guests will expect nothing less than a flat screen smart TV in the living area and in the primary bedroom (at least) there should be a wall-mounted flat screen.
Equally, a high end music system or Alexa with bluetooth will be appreciated.
There should be a good selection of TV channels available, plus a streaming service, such as Netflix or Amazon Prime.
Fast Wi-Fi (goes without saying), and well-placed power outlets, supply adaptors and universal chargers.

Insider Tip
Make sure that the wifi password information is easy to find. There should be a laminated sheet that orients guests to the digital ecosystem, including step-by-step instructions for getting online, using the TV, and playing music.
9. Laundry
Guests who book a longer stay (7 days plus) will appreciate the use of a washer and dryer, especially if they are staying with small children.
Airbnb laundry essentials should also include detergent, stain remover, and dryer sheets for washing, plus an ironing board and iron, and a clothes drying rack if you don't have a drying machine.
10. Family-friendly essentials
If you want to attract family groups it's essential to equip your vacation rental with good quality child and baby equipment, which will allow your guests to travel lighter. And if you want to delight your smallest guests, you'll also need to add some fun things along the way.
Bedrooms: At least one of your bedrooms should provide twin beds, a bunk bed or a zip-together bed that can be configured as two singles or a double, and at least one high-quality crib and crib linens should be supplied.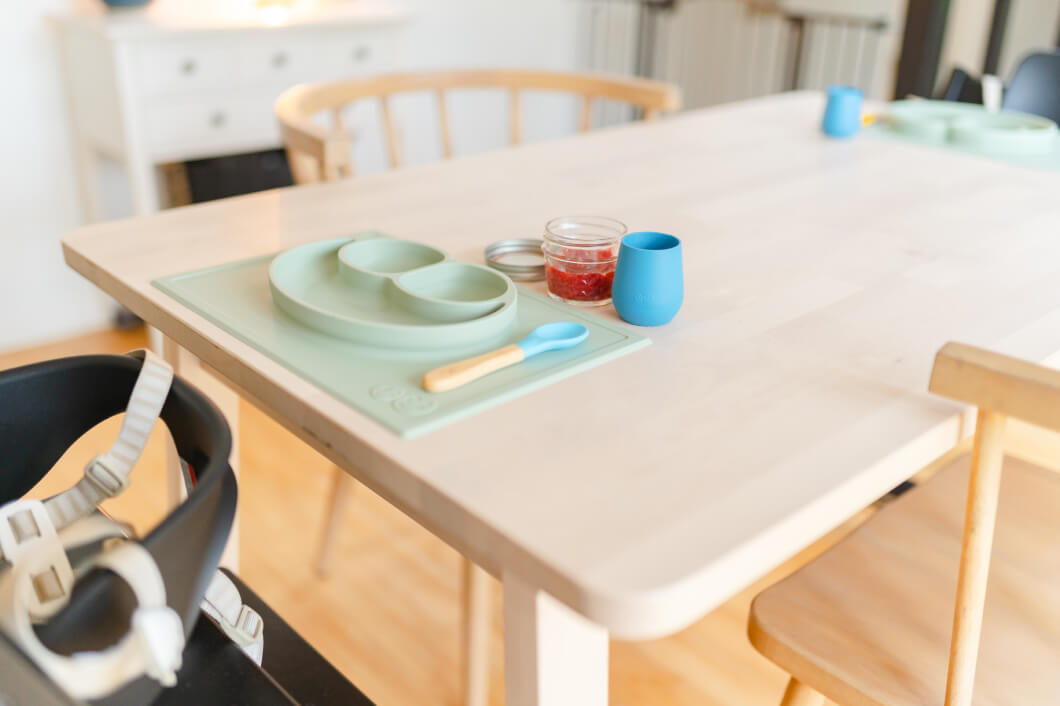 Insider Tip
We highly recommend washable mattress toppers for little accidents. And at least one high-quality crib and crib sheets should be supplied.
Bathrooms: Add a baby bath, toddler toilet seat and step, so small guests can comfortably use the toilet and reach the sink to brush their teeth.
Kitchen/Dining: High chairs are an essential add-on for dinner time. We also recommend equipping your vacation rental kitchen with toddler-friendly cutlery, plastic plates, cups and bowls. A microwave is important for warming up baby food.
Minimize hazard areas: There are essential pieces of equipment that must be installed for family-friendly vacation rentals which will keep children safe during their stay. If you have stairs, you will need to install a baby gate, your pool should be gated off, and child-safe socket covers installed.
---
Conclusion
Setting up the perfect vacation rental can seem daunting – there are hundreds of details to keep track of and hundreds of choices to make. We've designed the Inhaven shopping experience to make it seamless and straightforward. You'll never miss a detail and the curated selection makes choices fun.
Our online store has everything you need to create the perfect vacation rental space, so that your guests will enjoy more than just home comforts and you can get back to doing what you do best – being a host.
And the biggest benefit?
As a host or property manager, the expenditure of setting up and running a vacation rental is costly, and paying consumer prices – often on a repeat basis – cuts into your revenue.
When you shop with Inhaven you'll benefit from business pricing, because we understand that your vacation rental is exactly that: your business.
Sign up to the Inhaven community and start creating your perfect vacation rental today!