Did you know that sustainable travel and accommodation choices are becoming increasingly important to today's travelers?
Many hosts consider making their vacation rental more environmentally friendly, but decide not to for a few reasons. It might seem like too much effort, or the up-front cost might seem too high. Others feel that their individual actions won't make a difference. It's time to think again.
According to a recent Sustainable Travel Survey by Booking.com:
78% of global travelers intend to stay in a sustainable property at least once in the coming year
46% of respondents say they have stayed in sustainable accommodation over the past year
38% actively look for sustainability in accommodation
Bob Garner from global initiative EnviroRental and Green VR Events is working towards more awareness and improved sustainability in the vacation rental sector.
According to Garner, creating a more eco-friendly vacation rental doesn't just help the environment and local communities – it will also benefit your business engagement and rental revenue.
Here are some of the ways you can benefit:
Tap into an emerging market: the eco-friendly traveler. Capture those 78% of travelers who intend to stay in a sustainable property
More clicks on your vacation rental listing. Vacation rental search engine Holidu sees improved click and book rates for their eco properties
Improved guest engagement and repeat bookings
Going green is a great way forward for your vacation rental business. Let's take a look at some of the ways that you can get involved and play your part in slowing down climate change.
Article Contents:
1. Eco-friendly cleaning products
2. Install water savings devices
4. Light up with less using LED & Solar Lighting
5. Eliminate single use plastics in your vacation rental
6. Help your guests recycle more during their stay
7. Giving back to the community
8. Getting your guests involved
9. The ultimate green vacation rental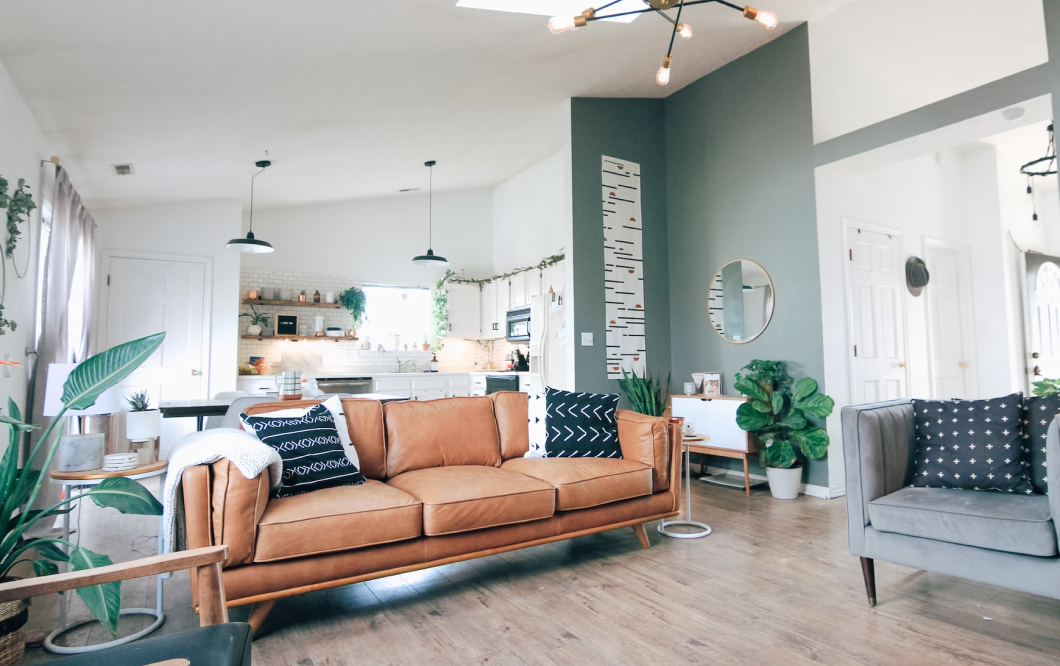 Small gestures that make a world of difference
Are you thinking: "hold on, is this going to cost me a lot of money?" Creating an eco-friendly vacation rental can fit in any budget. Even small gestures make a difference.
Just remember: for every dollar you invest into energy and water saving initiatives, you'll be a dollar better off long-term on your utility bills.
Eco-friendly cleaning products
Conventional cleaning products are incredibly damaging to the environment and the air that we breathe.
Switching to greener cleaning and laundry products means less harmful exposure for your guests (especially important for families) and fewer toxic chemicals and detergents in our waterways and landfills every year. Guests are on the lookout for toxin-free rentals when they are booking. When you make the switch to green products, be sure to add it to your listing!
Unlike earlier generations of eco-friendly cleaning products, today's options are tough on grease and stains – they'll get the job done.
So when you shop for cleaning supplies, consider switching to an eco-certified product. It's not only better for your guests, it's better for the planet too. A win-win for everyone!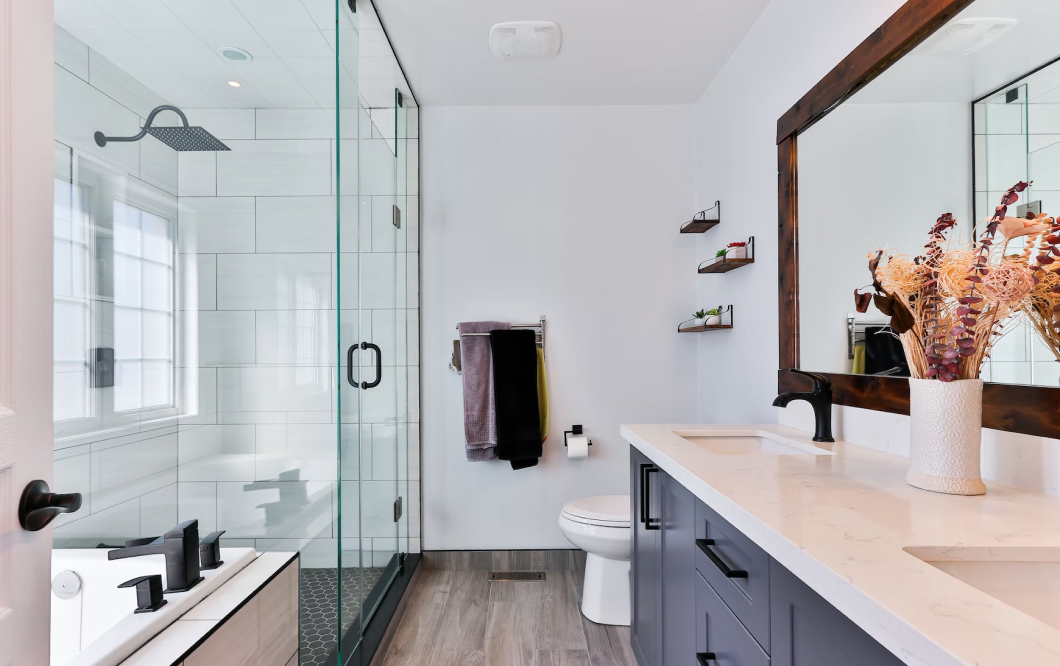 Install water saving devices
Water conservation should be as important as energy conservation in your rental.
Did you know that around 30% of your daily water consumption is flushed down the toilet?
Installing a dual-flush device in your toilet is an easy, economical and effective way of saving up to 50% of water for every flush! Installing water saving aerators in your taps and low consumption shower heads can save up to 60%.
Even small gestures, such as fixing a leaky tap can reduce unnecessary water use every day.
Energy saving practices
Installing low-cost energy saving devices can go a long way to energy conservation in a vacation rental home. Couple these simple upgrades with a handful of friendly suggestions to steer guests into consciously helping you save money on utility bills and reducing climate change.
Smart Thermostats: Up to 60% of your monthly utility costs go to regulating the temperature in your vacation rental. As energy prices continue to rise, that number will only increase. A Smart Thermostat will save you energy – by learning patterns and turning off when the home is empty – and put you in control – allowing you to set and adjust with an app.
Minut Noise Sensor: Many hosts are surprised to discover that a noise monitor can help to save energy in their vacation rental. The Minut Noise Sensor not only detects noise levels – it can also send you an alert if the air conditioning or heating is running while your guests are away, or after they've checked out.
Energy Efficient Appliances: Energy Star is the industry-standard certification for many appliances. Only the most environmentally friendly ovens, refrigerators, light bulbs and washer / dryers gain the Energy Star rating – those are the appliances that will save you money, require less maintenance, and reduce your environmental impact. Especially in a high-use space like a vacation rental, the slightly higher upfront cost is quickly recouped.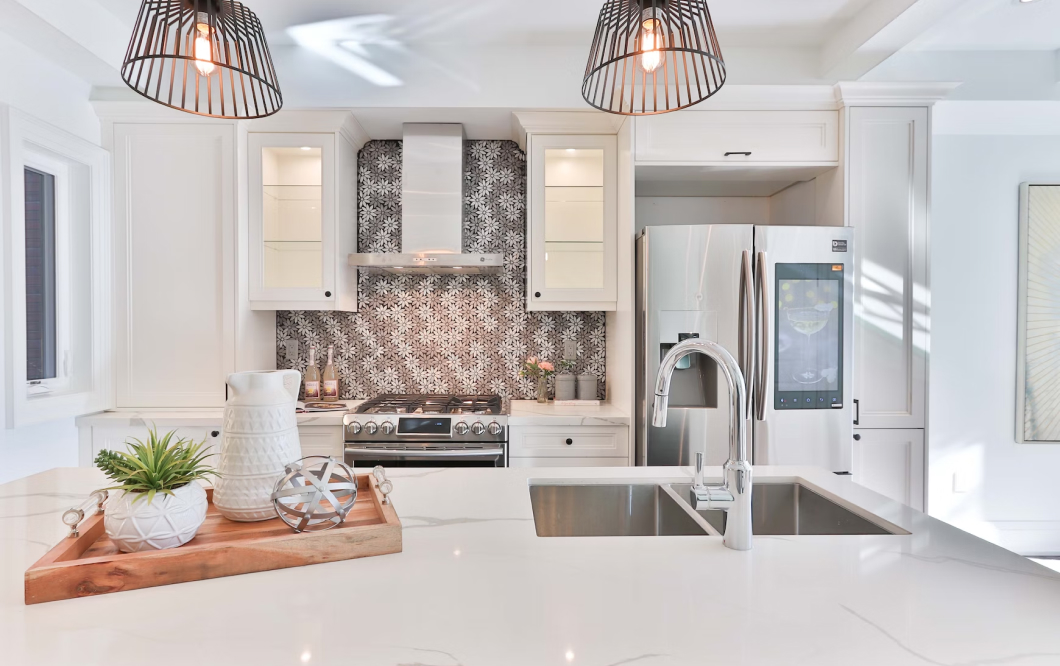 Light up with less using LED & Solar Lighting
Lighting consumes a significant amount of energy in a vacation rental, but LED and solar lighting can help you save.
LED lighting uses up to 75% less energy than incandescent lighting. (Fun fact: about 90% of the energy that goes into an incandescent bulb goes to creating heat!)
LED bulbs also last longer, especially when coupled with a dimmer control system. When you are changing out the lightbulbs in your table and floor lamps, it makes sense to use LED.
If you have an outdoor space, solar lighting is a great option. These lights are fitted with a tiny solar panel, so that they can spend all day charging – which makes sense, because you only need outdoor lighting during the evening.
Eliminate single use plastics in your vacation rental
Single use plastics are all too common in the hospitality industry: amenities bottles, complimentary plastic water bottles, cleaning goods, plastic packaging... Single use plastics have a devastating impact on our environment. They are harmful to manufacture, and discarded plastics harm animal and sea life.
Eliminating single-use plastic in your vacation rental is simple to do.
Purchase amenities that can be refilled – there are great options for hair care and skin care. Clean with multi-use products. Install a water filter on your tap or keep a Brita Carafe in your refrigerator, so that your guests have fresh, great-tasting water without buying plastic bottles.
Help your guests to recycle more during their stay
According to the US EPA (Environmental Protection Agency) Americans recycle or compost only about 32.1% of total waste – yet up to 75% of all waste is recyclable or compostable. Hosts can help eco conscious guests recycle.
Great ways to recycle in your vacation rental:
Install recycling containers for organic, plastic, paper and glass
Stock up with non-plastic refuse bags
Swap single use plastic items for refillable ones
If you want to go one step further why don't you leave them a sweet note explaining the locations of the recycling collection points and pick-up times?
We love this letter left by Valentina Pescarelli of Le Case di Valentina in Puglia, Italy for her guests.
"It was a challenge for us to explain the complex way we recycle in Gallipolli, so we needed a sweet way to get them on side and help us keep our little island clean and sustainable."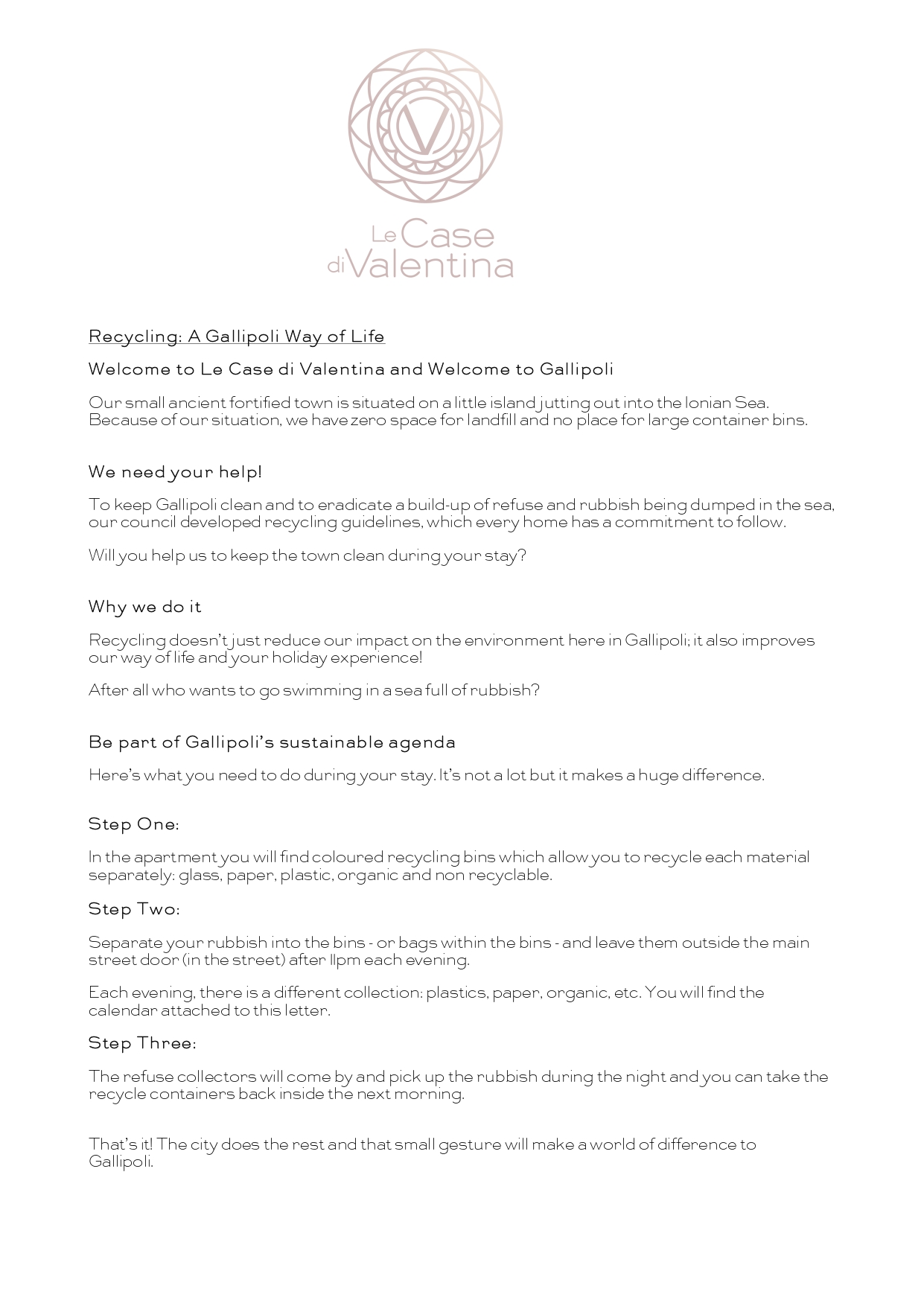 Giving back to the community
Creating a more sustainable vacation rental business isn't just about reducing the negative impact on the climate by saving energy and water, and eradicating single use plastic. It's also about giving back to your community and fueling the local economy.
As a local ambassador and accommodation provider you have a real opportunity to empower your local community, preserve cultural and natural resources and boost the local economy by encouraging your guests to shop and eat locally, and to buy locally produced, organic food to prepare at home.
Being a local ambassador means leading by example, starting with the products you put into your welcome basket, the recipes you share, and helping your guests 'live like a local' during their stay. Try creating a local 'Insider's Guide' that offers your personal favorite places to visit, shop and eat.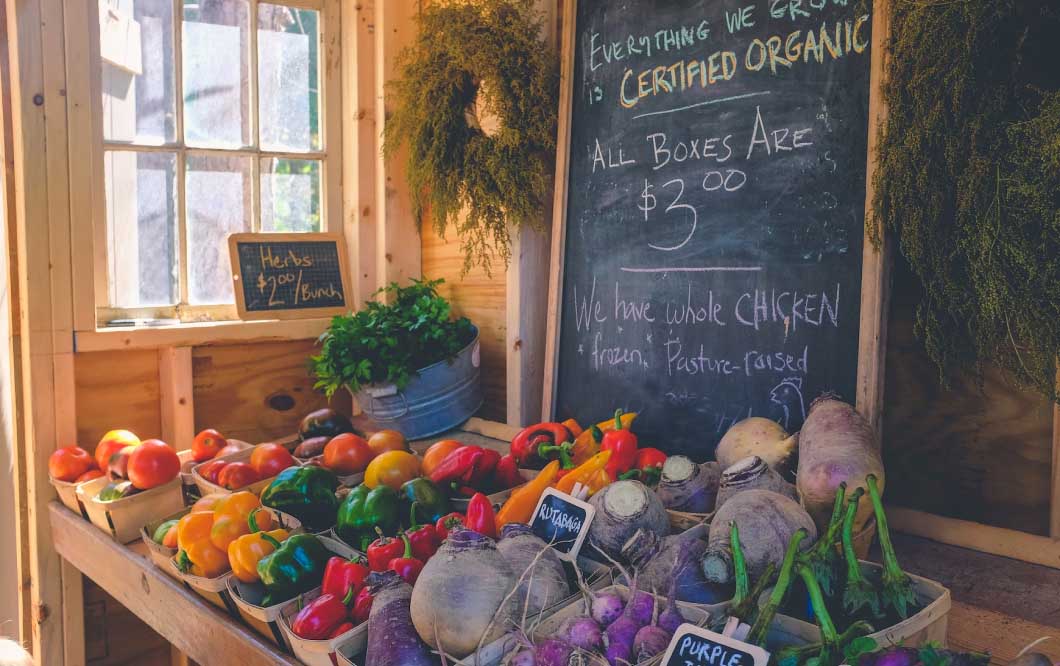 Getting your guests involved
Each of these small actions can make your guests feel empowered to join a sustainability agenda. Share your commitment to earth conservation through a friendly checklist. You're not telling them what to do – you're sharing your goals and letting them know that you appreciate their participation.
Hang up something like this in the kitchen or hallway, where it's visible to guests.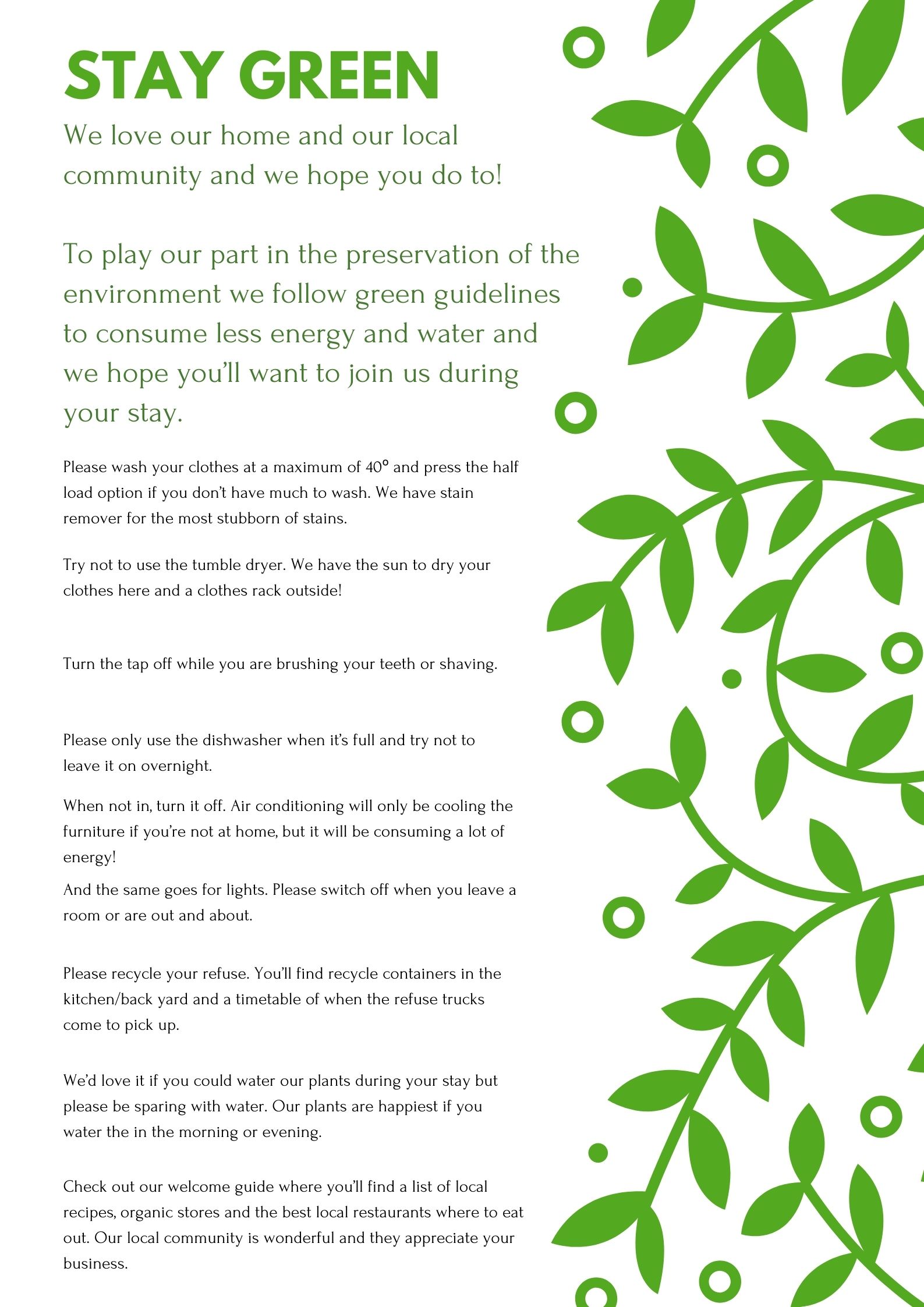 The ultimate green vacation rental
If sustainability is a subject close to your heart, consider taking a few steps further, creating a fully sustainable vacation rental.
The initial investment can be high but the rewards are far greater from both ethical and financial perspectives.
These are a few of the green initiatives which will turn your vacation rental into an eco travelers dream accommodation:
100% renewable energy
Green construction
Solar thermal panels for hot water
An electric car charger or a solar powered golf cart to get them around town
Want to find out more about sustainability issues in our vacation rental industry?
Tune in to Deborah Labi's The Green Path Podcast where you can listen to industry peers, property managers and some of the industry's most influential companies discussing their commitment to the planet.