What's the first thing you do when you walk into your vacation rental? Do you sink your face into the bath towels to see how fluffy and soft they are? Check out the bed to make sure it's not too hard and not too soft? Or that the pillows are dreamy soft, the duvet is huggable and the sheets feel crisp and luxurious?
Our Inhaven team loves to try out the bed first and then the towels. Then we smell the toiletries! And we're not alone. You may be surprised to know how often bedding and towels are mentioned by guests reviewing their stays in vacation homes
A survey by American Laundry News showed 73 percent of respondents said the quality of towels is a deciding factor on whether to book a hotel again or not and 94 percent said it is an important factor in determining how satisfied they are with their stay. That's what we call an overwhelming majority!
A report by Statista reveals 78 percent of respondents said a comfortable hotel bed is very important and eight out of 10 travelers always or nearly always read reviews before they book.
These figures show that for five star reviews and repeat bookings, bed linens and bath towels need to be in apple-pie order.
During a changeover, it makes sense to check your bed linen and towels are clean, whiter than white, and softer than a snuggly kitten.
If they're frayed or worn out, Inhaven's one-stop shop is the quick and cost-effective way to replace them.
Inhaven Towel Guide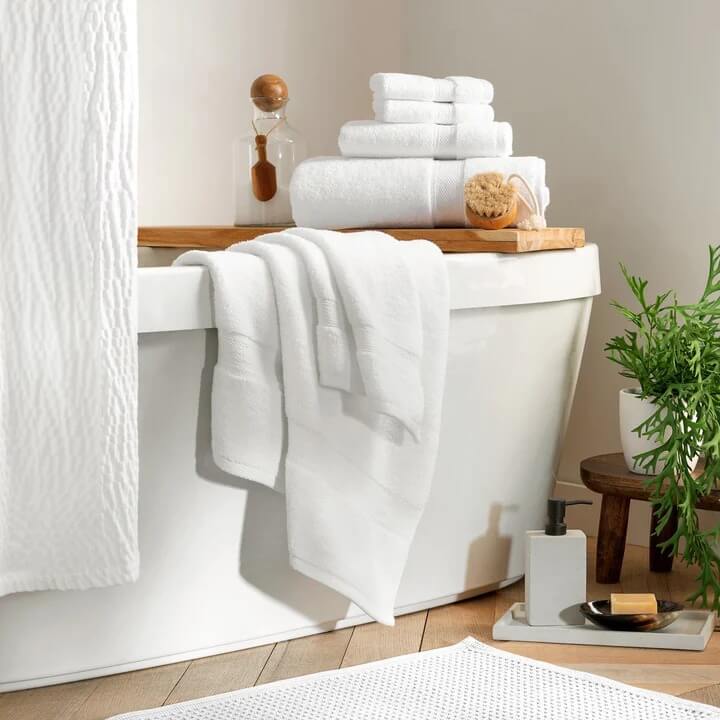 When purchasing towels, think about providing a selection of different sizes: from washcloths and makeup towels, to hand, bath and beach towels.
Makeup towels or wipes are often forgotten about but we find they stop guests using the hand or bath towel to wash their face and remove makeup, and protect your white towels from being stained.
We've created towel sets in basic, mid and luxe ranges from small packs through to bulk buys if you manage multiple properties. Our top choices include:
Zenith Turkish Cotton Towel Set features 100% cotton bath towels which are quick drying to allow for speedy vacation rental turnovers. We also love the HygroCotton Hand Towel bulk buy set (as used in Starwood, La Quinta, Holiday Inn properties and others). The patented HYGROCOTTON® process makes towels softer, fluffier and absorb more, wash after wash after wash. They too are quick drying.
Towels should be soft, absorbent, quick drying, hard working and stain resistant. At Inhaven, we're firm believers that towels in rental accommodations should be white and fluffy.
Fluffy because that says luxury. White because dirty towels can be bleached so they always come up sparkling clean.
How many towels per guest?
Three is the magic number when it comes to bath towels. You should have three sets of towels per guest, one that is in use, one for backup and one that is being laundered. Each set must contain:
Bath towels
Hand towels
Washcloths
And if you want to impress your guests further, include:
Makeup towels (we're tempted to put these into the essential list as they stop hand and bath towels from getting makeup stains on them)
Beach and pool towels
Bathrobes
Bath slippers
So that you don't have to research the best towels for your vacation rental, we've already shopped around to find the best, top-quality towels for your bathrooms which will earn you those five-star reviews - and repeat bookings!
Inhaven Bed Linen Guide
Now, let's move into to the bedroom….
Your vacation rental bed linen must be clean and crisp. There's nothing more off-putting for the guest experience than stained or old looking bed sheets. Ugh!
Bed linen must-haves:
Comforter and duvet cover, or a quilt or coverlet
Fitted sheet
Flat sheet
Pillowcase or sham
To ensure the mattress and pillows last as long as they possibly we also recommend:
Waterproof mattress pad and/or a mattress encasement
Pillow protectors
When choosing sheets, the quality of the thread and the fabric you choose are essential. Cotton is the most durable natural fiber. It's perfectly breathable and therefore makes for a good night's sleep.
What does breathable mean?
It lets air pass through it so the sheet doesn't become too warm. As it absorbs body heat, cotton sheets can keep you cool in the hot summers and warm in winter. That's good news for you as you can use the same sheets all year round.
Inhaven Bed Linen options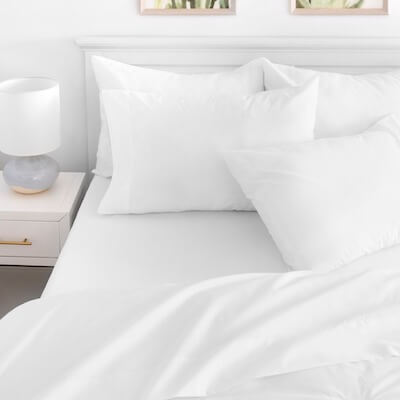 Organic cotton: doesn't use chemicals, pesticides or fertilizers to produce. It delivers a five-star experience while ticking the sustainable and environmentally-friendly boxes.
Egyptian cotton: provides a luxurious feel as the sheets are so soft, fine and long lasting. It's considered to be the best cotton in the world.
Cotton/Polyester blend sheets: inexpensive compared to 100% cotton sheets. They´re also durable and wrinkle-resistant (happy news for your housekeeping team).
For ultimate breathability, we love these 100% cotton sheets from Sferra.
What is Thread Count?
The thread count (tc) reflects on how many threads are woven into each square inch of the sheet. For sheets, look for a thread count of between 200 and 600. Higher thread counts lead to less breathability and often stifle the airflow.
If you're looking for higher thread counts, one of our favorites:
T400 Premium HygroCotton Flat Sheets These are innovative sheets from Welspun with a 400 thread count and made with 92% cotton/8% Polyester HygroCotton®. The sheets wick away moisture, keep you cooler in summer and warmer in winter, plus they get softer and more comfortable over time. Also available in fitted sheets.
Because bedding is so important, include your sheeting material in your property or Airbnb description. If they are Egyptian cotton, organic cotton or sateen sheets, we'd mention that too. It could be the deciding factor when guests are weighing up whose accommodation to book.
How many sets of sheets per room?
Three is the magic number as well when it comes how many sets of sheets you should have per room. Why do you need three sets? One set will be on the bed, one for backup and one set that is in the process of being laundered.
This also protects linen longevity...
Are you a property manager buying for multiple vacation units?
At Inhaven, if you're a multi unit property manager, we've got you covered with our bulk purchase options.
When buying in bulk, we can't stress how important it is to standardize the bed linen, towels and other household items. Why? First, it makes it easy for you to purchase and re-purchase. See a bundle you like and buy several of them.
Secondly, you are creating the same brand image across all your properties and guests love that. It makes them so happy when they book any one of your properties and know they'll get the same quality of product and service wherever they stay.
To sum up why all this is important…..
Happy guests mean great reviews and repeat bookings!