As a professional property manager, you've got so much going on, from guest check-ins and providing personalized recommendations to dealing with maintenance issues, communicating with homeowners, and everything in between.
One thing you don't need to worry about? The bathroom amenities in your homes.
It's an important part of the guest experience. When guests arrive at your vacation rental, do they have to immediately run out to buy hand soap? Or are you providing luxe products with beautiful branding that will leave your guests impressed?
We all know this is something that will influence how they feel about the property – and you.
But it's not something you want to worry about day-to-day. And you don't have to.
There are luxurious bathroom amenity solutions available, and at Inhaven, we're making stocking your properties with high-quality, eco-friendly shampoos, conditioners, body washes, soaps, and lotions easier than ever.
Introducing Buzz Products
If you've browsed our website or taken advantage of our iconic Bathroom Checklist, you've no doubt encountered the beautiful branding and packaging of our personal care products.
Now we're excited to help you discover the bathroom amenity solutions property managers have been waiting for – Buzz Products, exclusive to Inhaven for the vacation rental industry.
A leading supplier of bathroom amenities, Buzz Products provides collections from iconic brands at wholesale pricing. They've been top amenity providers for leading airlines and global hotels for over twenty years, but now, for the first time ever, they're offering the ideal solution for displaying bathroom amenities in vacation rental homes – so your guests can enjoy a 5-star hotel-like experience when they stay with you.
The Need for Eco-Friendly Luxury Brands
With an increase in conscious consumers, there is a growing demand for wellness and self-care products that are both effective and environmentally safe. Guests don't want to use luxury products at the expense of the environment.
At Inhaven, it's important to us to cater to this demand for eco-friendly products while maintaining our mission to empower hosts to reach the highest standards and generate the greatest value.
That's why we're thrilled to announce our latest product lines through our partnership with Buzz Products – and we can't wait for you to check them out.
The Best Buzz Brands
Selecting bathroom amenities to use across your properties is a personal choice. When guests use your hand soaps, lotions, shampoos, and conditioners, how do you want them to feel? Refreshed? Rejuvenated? Relaxed? Do you want them to marvel at how soft their skin feels? Feel good about using eco-friendly products?
With the acclaimed collections from Buzz brands, no matter which product line you choose, you know that the quality is something you can stand by – something that will add a touch of luxury to the guest experience in each of your vacation rental properties.
Murchison-Hume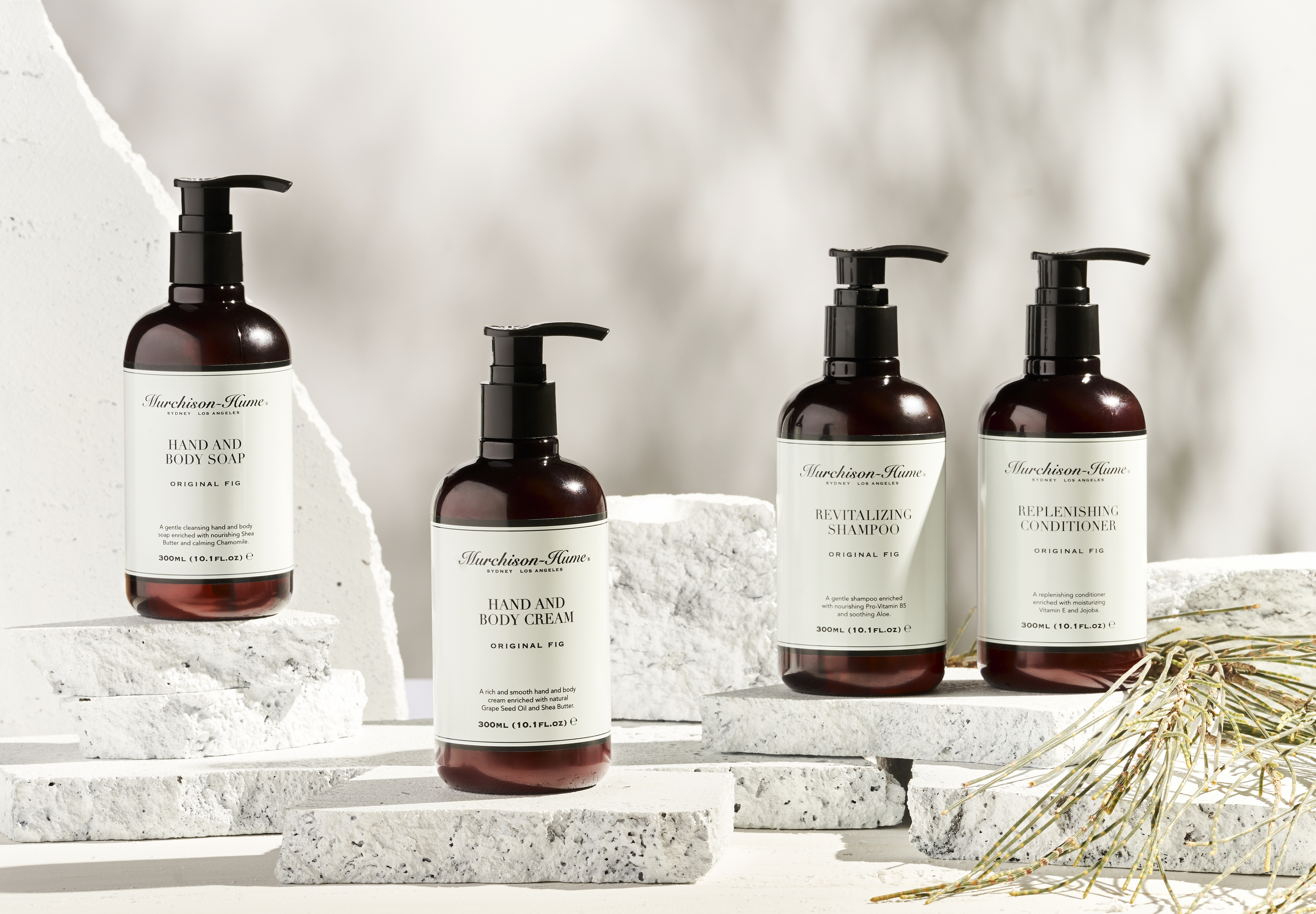 Created with the simple idea that beauty and practicality can coexist, Murchison-Hume makes products that are safe for people and the planet, truly effective, beautiful to look at, and a pleasure to use.
You'll love the sweet, earthy scent of Original Fig and the luxurious natural ingredients, including shea butter, grapeseed oil, chamomile, and aloe. Not to mention that Murchison-Hume's lineup is free from dyes, petroleum-based solvents, non-sustainable Palm Oil derived ingredients, and animal testing.
To put it simply, the Murchison-Hume brand includes products that are safe, effective, and elegant, so you – and your guests – can feel good about using them.
Rohr Remedy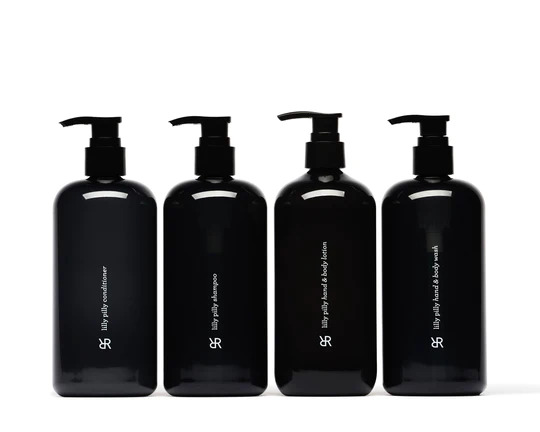 Rohr Remedy is an Australian-based brand of natural skincare products created from a combination of Australian bush medicines and dermatological science. Their products are effective, versatile, and ultra-luxurious. Plus they're free from parabens, phthalates, petrochemicals, synthetic fragrances, palm oil, and animal testing.
The natural blend of Green Mandarin, sweet orange, and lavender essential oils in Rohr Remedy's lineup is divine. Guests will love the scent – and the fact that all of their raw ingredients are Eco-Cert approved and undergoing comprehensive testing to ensure efficacy. Plus the packaging is simply beautiful, adding a hint of lavishness to the bathrooms in your homes.
KLUR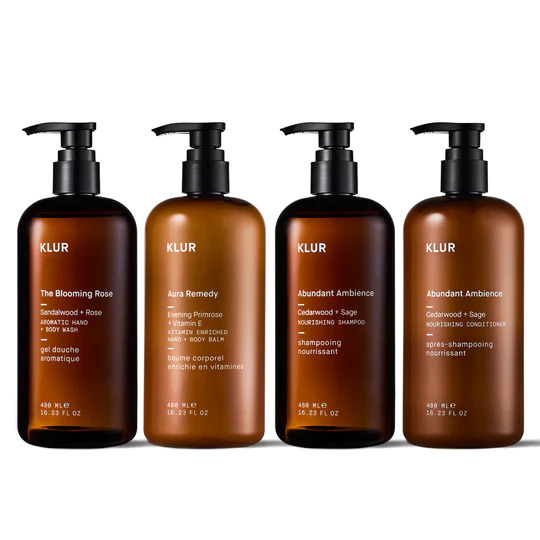 If you've been searching for the perfect botanically-based wellness brand to include in your properties, KLUR is just that. Embracing a holistic approach to optimizing skin health and well-being, KLUR goes beyond skincare to emphasize the importance of self-care and forging a path toward a brighter, more eco-inclusive future.
When guests use KLUR's luxurious products in your homes – a brand whose goal is clean, ethical, and inclusive beauty – it's a reminder to prioritize their physical, mental, and emotional health. And that's something you can be proud to pass along to your guests.
And That's Not All
New additions to Inhaven thanks to our partnership with Buzz Products include the fresh and floral Barr-Co, the sophisticated yet functional Edition Voyage, and the refreshing, fruity Payot Paris.
Easy Options to Fit Your Properties
Once you select the brand that fits your vision, you can purchase the full line of shampoo, conditioner, hand & body wash, and hand & body lotion.
The best part? Murchison-Hume, Rohr Remedy, and KLUR brands all have 16oz refillable bottles with sleek, sophisticated designs. They're easy to refill with clear fill lines, so there's no mess and no fuss. And 1-gallon bottles can be stocked in your homes to easily refill the smaller bottles – so you never run out.
How Often Do We Need to Refill?
As with any products you keep stocked in your properties, how often you'll need to refill will depend on occupancy. But with their extensive experience, the Buzz Products team has done some research to make it easier to predict.
When you're trying to estimate how much product you'll need, consider the average usage per person per bathroom:
Shampoo – 0.6oz/day
Conditioner – 0.5oz /day
Hand & Body Wash – 0.75oz /day
Hand & Body Lotion – 0.4oz /day
Think about the number of guests staying in each of your properties and the average length of stay to make sure you never run out.
Pluma – The Bracket System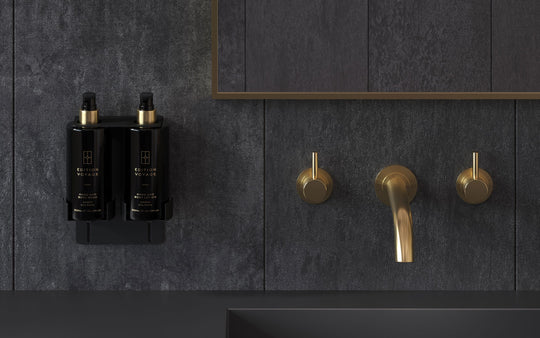 Wondering how to store these beautiful amenities? Beyond the luxurious soaps, shampoos, conditioners, and lotions – Inhaven is introducing Pluma, a new bracket system for 16 oz bottles. It enhances the display of bathroom amenities to keep your products organized and exude a sense of luxury in your bathrooms.
Not only are these brackets beautiful, with a streamlined, modern aesthetic, but they're also completely innovative. Flexible, secure, and feather-light – installation, filling, and refilling are a breeze.
Pluma brackets are also highly durable and resist scratches and watermarks, so you can install them in your homes knowing they'll hold up to continual use without a problem.
Available in single, double, and triple holders, all in black (with white launching shortly), they are an ideal solution for vacation rental homes. And with options for wall-mounting or countertops, you can easily use them anywhere.
Exclusive Partnership with Buzz Products
The vacation rental industry has been waiting for an easy way to enhance their properties – and the guest experience – with luxury bathroom amenities. At Inhaven, our exclusive collaboration with Buzz Products makes iconic brands that were previously available only to luxe hotels and high-end airlines available to vacation rentals for the first time.
With a shared vision to make it easy for vacation rental managers to provide a five-star hotel-quality experience in their vacation rental homes, Buzz Products is an ideal partner for Inhaven – and we're so excited for you to experience their luxe amenities for yourselves.
What's Next for Inhaven and Buzz Products?
With our exclusive partnership, the future of Inhaven and Buzz Products is bright. In fact, we've got some exciting things in store for customers who love these iconic brands.
If you've been trying to figure out how to incorporate customizable branding into your vacation rental properties – without a major financial investment and huge lead time – you're going to want to stay tuned to find out what's in the pipeline for Buzz Products and Inhaven. We can't wait to let you in on what we've been planning!
Until then, explore the luxurious amenities and innovative bracket systems available to vacation rentals for the first time ever through our collaboration with Buzz Products, and be among the first to stock your homes with the high-quality, eco-friendly amenities that will leave them feeling pampered.
Discover Buzz Products, exclusive to Inhaven.